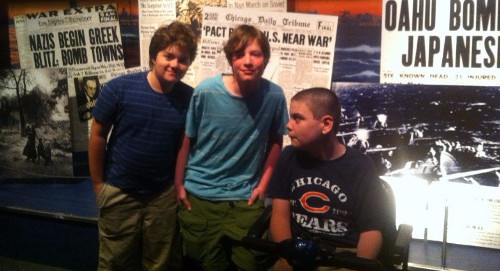 Happy Fall Thumbuddy Special
It is our busy time of the year. Our Moms Day Out Event is on November 6th. We could use your help with donations of pampering items for our Special Moms. Click here to see the attached flier for more information.Our Wrapping Party for our Needy Families will be on December 11th. Mark your calendars and Santa helpers are needed for the Wrapping. More information to follow in next months email.

Here are two of the thank you notes of recent Thumbuddy Special grants:
Thumbuddy Special sent Max out for a day of fun with his friends before he underwent major orthopedic surgery.
Thumbuddy Special also supported Alesha's family by financing the lift into their home Alesha's dad, Michael, wrote a beautiful note to express his thanks.
Enjoy this beautiful weather!
Go Cubs! (not easy for this White Sox fan to type)God's Love and Grace:
Mary EllenMonetary Donations can be sent to:
Thumbuddy Special
PO Box 145
Downers Grove, IL 60515
Or through PayPal